The full carnival program is available on the LPA Carnival website in English. This years's theme is Magic & Fantastic Creatures although you can come dressed as anything you want.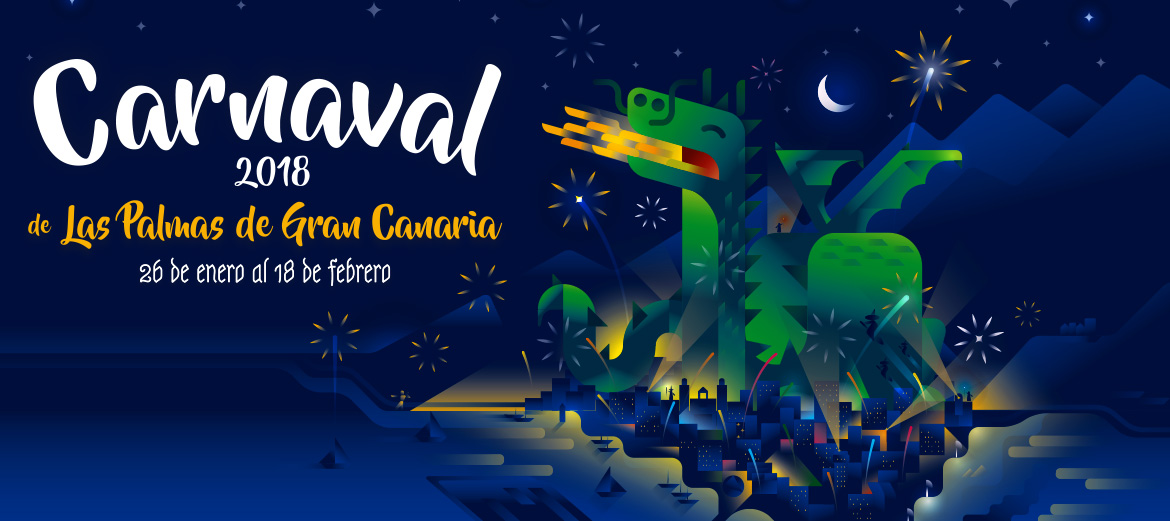 Highlights include...
The veteran carnival queen gala on Sunday 28th January at 20.00 in Santa Catalina Square.
The day carnival on Saturday, February 3rd which starts at midday in Vegueta old town.
Day carnival on Sunday 4 in Santa Catalina from 12.00.
Carnival queen gala on Friday 9 at 21.00 in Santa Catalina. The traditional carnival queen.
The Carnaval al Sol beachfront parade on Saturday 10 at 17.00 (dancing and drumming troupes).
Traditional white carnival in Vegueta and Triana districts on Monday 12 at 19.00 (lots of talcum powder in the air so be careful with cameras).
The drag queen gala on Monday 12 at 21.00 in Santa Catalina (tickets not available yet; they sell out in minutes).
Carnival Tuesday from midday on Tuesday 13, around Santa Catalina.
Bodypainting contest on Friday 16 in Santa Catalina. This starts at 21.00 and entry to the main stage is free.
Main procession (cabalgata) on February 17: Starting at 17.00 it goes from south to north from the Plaza de la Feria to the Plaza de Manuel Becerra. Bring rum and friends (and maybe earplugs).
Sardine burial procession: The last event is a parade of mourners and widows led by a giant papier-mache sardine, followed by a firework display on the Las Canteras beachfront.21.00 on Sunday 18. The procession starts at the Pueblo Canario and ends on the beachfront.
For more info on the Las Palmas Carnival, see our complete guide.