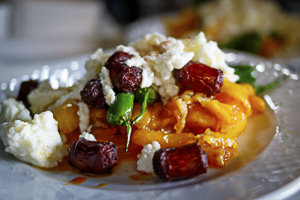 Terraza El Patio in a nutshell
A quality Mediterranean Spanish restaurant specialising in rices, seafood and meat set in a little village close to Arucas. Offering friendly service and generous portions of great food, Terraza El Patio gets a big thumbs up from the Gran Canaria Info team.
Eat here and you get a free caña (small beer) or glass of wine per person when you sit down for a meal and show your waiter the voucher at the bottom of this article.
What to Order at Terraza El Patio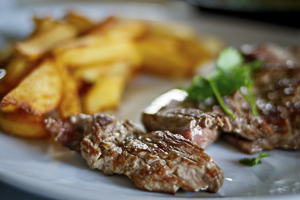 Don't leave Gran Canaria without trying the pork from Spain's famous black pigs; the same ones that are used to make jamon serrano and pata negra. Known as Iberico pork, the best comes from pigs that roam free and feed on acorns. This is known as bellota pork and it's what you get in El Patio. The steak is also top quality.
Normally we'd advise you to order meat in the mountains and fish by the sea but Terraza El Patio does excellent seafood rices and a great cherne (Canarian wreckfish) so order whatever you feel like.
There are plenty of Canarian dishes on the menu and several specialities such as the grilled cheese with onion jam, and the crunchy blood sausage with smoked goat cheese.
The cheesecake is excellent.
Rice dishes at El Patio: To paella, and beyond!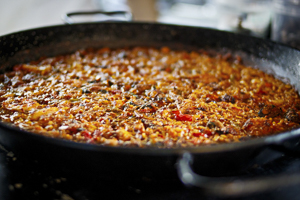 El Patio does an excellent, authentic Valencian paella made with quality Spanish rice and flavoured with saffron. It's as good as paella gets in Gran Canaria!
However, there is more to rice in Spain than the golden stuff from Valencia.
For example, try an arroz caldoso; a much wetter, almost soupy rice dish that is achingly tasty. Or arroz meloso, the creamy Spanish equivalent of a risotto. Black rice, coloured flavoured with squid ink, is delicious. Fidegua is made with short, thick noodles rather than rice.
El Patio is the place in Gran Canaria to try one of these lesser-known but equally delicious rice dishes from the Spanish Mediterranean.
Lex Says: The Vegetarian rice dishes at El Patio are genuinely tasty.
The ñora: Star of the Spanish Levante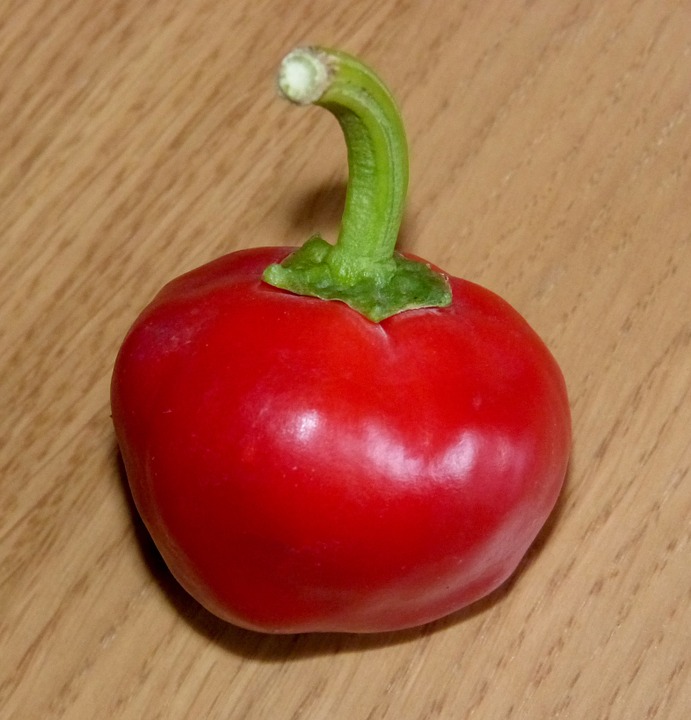 The arroz caldoso with seafood and mushrooms at Terraza El Patio is a spicy treat and one of the tastiest dishes we've tried anywhere in Gran Canaria. The secret is the dried ñora pepper which gives Mediterranean Spanish rice dishes their unique depth of flavour.
This little round pepper is a popular ingredient in Murcia and Alicante but isn't grown in the Canary Islands. El Patio imports its own supply and soaks them in the traditional way to extract as much of their unique, sweet flavour as possible.
It's what gives its rice dishes their depth of flavour.
How to get to Terraza El Patio
Global Bus gets right to the door of the restaurant with lines 205, 222 and 257 from Las Palmas. A taxi from Arucas costs a few euros and even from Las Palmas you won't spend more than 20 euros.
In a car, take the GC 330 from Arucas towards Tenoya and look out for Teraza El Patio once you reach the village of San Franciso Javier. Or, just ask Google maps to take you to the door!
Alex Says: Visit Arucas and the Arehucas rum factory, then head over to Terraza El Patio for lunch.
Gran Canaria Info Offer: First drink free at Terraza El Patio
Show your waiter this voucher on your mobile phone and you get your first caña (little beer) or glass of wine for free with your meal.
At weekends, turn up early (before 13.30) or better: book a table.