What is Gran Canaria Info?
Centred around gran-canaria-info.com, Gran Canaria's leading English-language website since 1998, we are Gran Canaria's biggest and most trusted online platform.
Website with more than 10 thousand unique visitors per day
Facebook page with more than 145,000 fans, and a fast growing Facebook group.
Daily social media reach of 200,000+ Gran Canaria fans from the UK, Scandinavia, Holland and Germany
Gran Canaria's most shared content marketers
Gran Canaria's leading video marketers: Our videos are shared hundreds of times.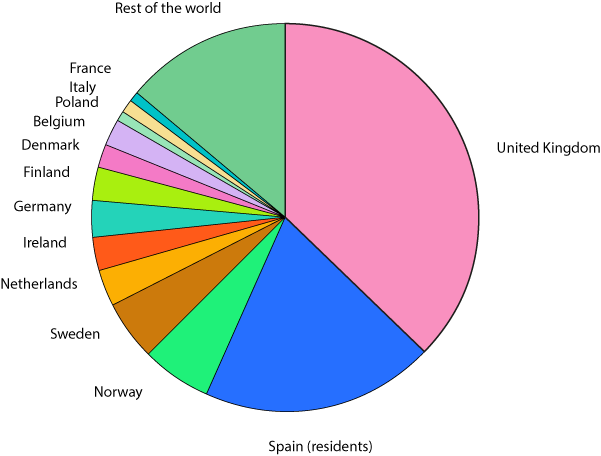 Where the Gran-Canaria-Info.com visitors are from (2021)
The Gran Canaria Advertising Package
Our audience comes to us because they're looking for trustworthy information.
We focus on showing off your business with quality photos, videos, and text. We don't just tell people about your business; We show them why it's great.
We get your business in front of the right people every single day.
What exactly do I get for my money?
Quality, targeted exposure to thousands of your potential customers from our advertorial, photo gallery and video on our website.
A full feature article on the website plus temporary front page exposure
Photo gallery featuring your business
Tip of the day; short video and article
Social media promotion across our unrivaled social media platform;
Monthly Facebook feature with paid promotion (we pay to promote your business to thousands of Gran Canaria fans)
Active promotion of your offers, events, and news across all social channels
Regular Tweets and Instagram posts featuring and recommending your business.
Video feature on our YouTube channel
Active and continuous promotion online and on social media: We reach >70,000 Gran Canaria fans every day.
Continuous advertising
Unlike print advertising, we keep your business in front of your customers permanently. Your target customers visit our website every day.
Quality branding
We promote your business as the best in Gran Canaria
How much does it cost?
Excellent value for money thanks to our huge reach and audience!
Contracts are for 6 months or a year, the choice is up to you:
Pay per half year

You pay 1000 euro.
Pay per year

You pay 1500 euro. (You save 500 euro)
If you'd like to find out more about videos we can make for you, check the information on our video page.
Where do I sign up?
Easy! Just call us, email us or send us a Whatsapp. We'll visit your business and start sending you clients straight away.
Media Kit
Download here our Media Kit.