Gran Canaria car rental contracts
Standard contracts for car hire in Gran Canaria should include the following:
Unlimited mileage.
All taxes.
Some level of insurance (check the conditions and excess).
Most car hire contracts in Gran Canaria will not cover you for the following problems:
Problems or breakdowns caused by off-road driving, including damage to the undercarriage, wheels or tyres or damage caused by rolling the car.
Parking fines or any other fines due to dangerous or negligent driving or drink driving.
Loss or damage to the key, including water damage caused by going swimming with the key in your pocket.
Damage caused by putting the wrong fuel into the car.
Damage caused by non-registered drivers, unlicensed drivers or drivers under the age of 21 or with less than two years driving experience.
You almost always have to leave a credit card number as a deposit when renting a car on the island.
How to avoid car rental problems in Gran Canaria
Provided that you check the condition of your vehicle before driving off, the vast majority of car rentals in Gran Canaria are trouble-free. Look out for bald tyres, dents and interior damage and make a record of them with the company.
Unfortunately, some car hire companies in Gran Canaria advertise very low prices and then recoup their money with sneaky tricks. This happens most with the cheapest deals on car rental aggregation websites. The main culprit in Gran Canaria has a seven-letter name starting with Gold and ending with Car.
This trick works like this:
Normally you either return a car with the same fuel level as when you rented it, or return it with a full tank. However, some unscrupulous companies insist that you bring your car back with a completely empty tank and charge to remove fuel if you don't. Since it's almost impossible to empty a fuel tank in Gran Canaria, lots of customers end up paying high fees for emptying the tank.
To avoid the scam, we advise you to find out the name of the car hire company you are booking with. This is often tricky on car rental aggregation websites and is why we recommend going directly to the car hire companies themselves.
Car rental at Gran Canaria Airport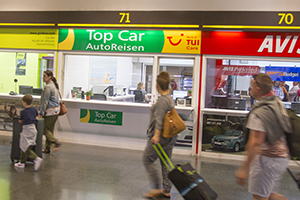 The main rental companies all have offices in the arrivals lounge of Gran Canaria airport, but it's best to book online in advance (especially if you come to Gran Canaria during busy holiday periods). You can do your paperwork and collect your keys before leaving the arrivals lounge, or to the right of the arrivals exit.
The main advantage of renting a car in the airport is that you pick it up on arrival, have it for the whole holiday and can leave it at the airport on departure.
Alex says: Check that your car will be at the airport when you arrive rather than parked in a nearby town.
In the resorts
The main car rental companies in Gran Canaria have offices in Playa del Inglés. Some also have a small office in Puerto Rico.
In smaller resorts and residential areas, you'll find plenty of independent car hire companies. They often have great prices but are too small to have an airport pick-up service so you'll have to pay extra if you want to leave your car at the airport.
Smaller car rental companies also take a bit longer to reach you if you break down and can struggle to find replacement cars.
The best Gran Canaria car rental option
After years of recommending car rental companies in Gran Canaria we've found that the most reliable company is Cicar. Here's why:
They have five rental offices around the island
They speak most common languages and are quick to respond to inquiries and problems
Their cars are modern and in good condition
Their contracts are fair and transparent