The Gran Canaria mango season runs from summer through to February depending on the year. The first ones normally appear in the shops in July but this year they are really early.
This year Spar supermarkets are already selling little ones at an outrageous 10 euros per kilo. However, prices should fall fast as the main crop starts to ripen in the warmest spots in south Gran Canaria.
How to choose a good mango in Gran Canaria
Mangos grow all over Gran Canaria but the best ones come from the south and south west valleys like Arguineguín, Mogán and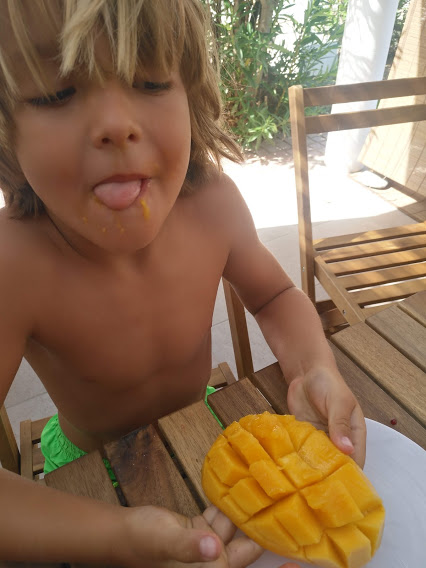 Veneguera. Really fresh ones have a faint white bloom on the skin, like a fine layer of chalk dust.
If you find a mango that smells great, it will taste just as good no matter what it looks like.The tiny yellow ones, often with sticky skin, are fibrous inside but taste delicious. Larger yellow or green ones have no fibres and you can smell them as soon as you walk into the shop.
Some varieties, like the big red ones, are delicious but don't have any odour at all. Choose one that is slightly soft to the touch but doesn't have black spots or by the stem (which indicate that it has started to rot before it ripens).
It's often best to buy local fruit in Gran Canaria from small shops and fruterias rather than the big supermarkets. The supply chain is shorter and the fruit less likely to be picked early and kept in cold storage.