Between Pasito Blanco marina and Montaña de Arena beach, Pasito Bea is often called Playa de las Mujeres by south Gran Canaria locals. The nickname comes from the pre-tourism era when the land behind the beach was all tomato plantations and Pasito Bea beach was the traditional bathing spot for the women who worked in the fields. History hasn't recorded where the men went for an after-work swim.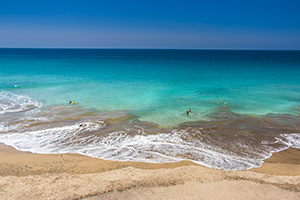 The beach is only 100 metres long but is wide and pebble free. Its fine sand varies between golden and volcanic depending on the tides and the light, but the water here is almost always clear and a gorgeous turquoise colour.
Swimming on calm days is lovely as the water is warm and shallow and the bottom completely sandy. Take are on rough days as there is an undercurrent that pulls you out to sea.
Nudism is fine on Pasito Bea but it's also popular with locals who keep their swimming costumes on. The west end of the beach is the nudist corner but if you want a completely nudist experience, head west (about 500 metres walk) to Montaña de Arena.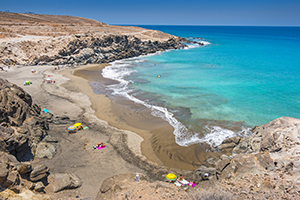 There are no shops or facilities at Pasito Bea beach and no bins so please take your stuff (and anybody else's that's left lying around) with you.
Lots of people bring their dogs to this beach.
Get to Pasito Bea beach on any bus (Line 1 is a good option) that goes between Maspalomas and Arguineguín on the GC 500 coast road (tell the driver where you want to stop). The beach is about 10 minutes walk from the road and is easy to get down to. The track to the beach is now pedestrian only so park your car here.
Alex says: The area behind Pasito Bea and Montaña de Arena beach is slated for development within the next 20 years so take advantage of their pristine nature while it lasts.