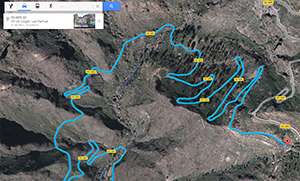 The GC 605 starts just past Pueblo de Mogan, the inland twin of Puerto de Mogán, as a fork off the GC 220 that goes all the way along the west coast to Agaete. The first section is an epic series of hairpin bends winding up the west side of the valley past ochre cliffs and huge boulders. After 6.5 km, you reach a viewpoint with a great view of the bends you've just navigated.
Lex says: Nobody lives on this stretch so don't be shy about honking the horn on blind corners.
The road continues upwards with more twists and turns until you reach the pine forests and the Presa de las Niñas reservoir. Here, there's a picnic spot by the water (if levels are high enough) with an ice cream van.
Alex says: Look out for the tame Canaries hopping about close to the toilet block.
After a break, continue driving past the reservoir and up the road through the pines. The views here get better and better as you see the sheer cliff faces of the Risco de Tirajana and steep gorges of the southern highlands. Eventually (it's a 10 km, 20-minute drive) you reach the GC 60 road in Ayacata village; a scattered but pretty settlement with several restaurants catering to day trippers and cyclists.
On the GC 60 turn left (west) for Tejeda and right for Roque Nublo and San Bartolomé. Take the first road off the GC 60 just 250 metres into Ayacata for the GC 600 road up to Roque Nublo, or carry on along the GC 60 through the village and onwards towards San Bartolome de Tirajana; the gateway to the Fataga Valley drive back down to Playa del Inglés.