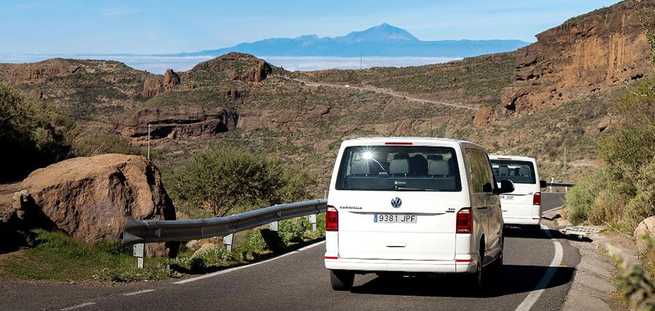 Spend a day exploring the bits of Gran Canaria that you can't reach on the bus with this quality Volkswagen Caravelle / Transporter tour.
This comfy Panorama trip up into the Gran Canaria mountains takes you through the island's most spectacular scenery and to the little highland villages where life goes by at a much slower pace than down at the coast.
Explore the deep valleys and stunning forests of Gran Canaria and stop in the villages of Tejeda, Artenara, Tunte, or Ayacata. The trip heads up through the Fataga Valley, with plenty of stops to appreciate the views, and down through the Tilos de Moya along one of Gran Canaria's coolest little roads. At the end of the tour you'll hvae a really good idea of what Gran canaria is really like away from the resorts.
Each vehicle has an experienced and multi-lingual local guide to show you the best of the island. Lunch can be included , or you can pack a picnic or grab a quick bite at a local restaurant.
To book this thoroughly enjoyable VIP tour, just contact our Gran Canaria booking team via Whatsapp. Our booking system couldn't be simpler and our local experts are always on hand to help you choose the right trip.