At Gran Canaria Info we love bringing you the best new things in Gran Canaria and we really have got a great one for you today.
Los Almacigos opened in summer of 2018 and is already a star of the weekend restaurant scene amongst locals and in-the-know residents.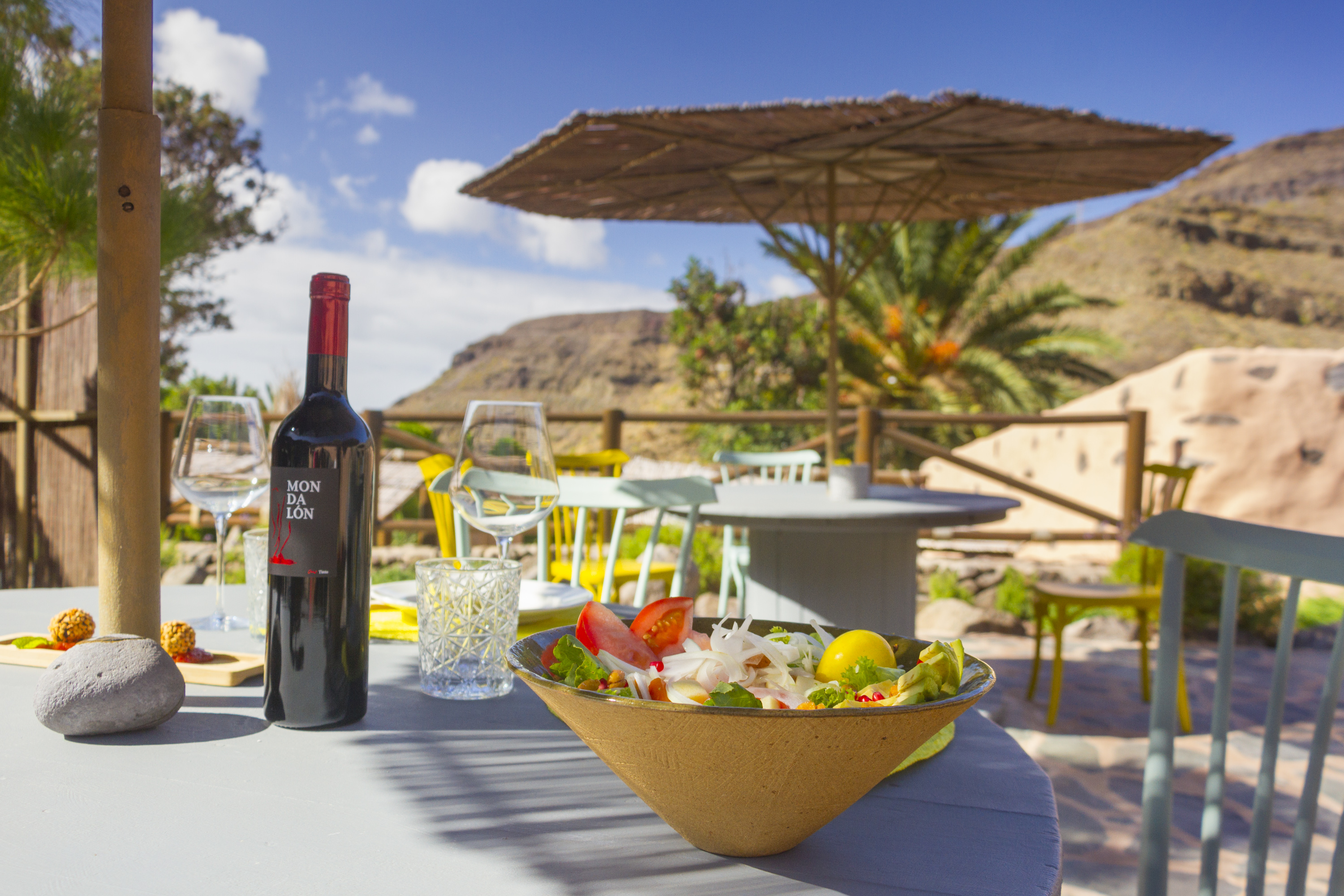 Set in the stunning Guayedra Valley just south of Agaete and Puerto de Las Nieves, this beautiful outdoor restaurant offers modern Canarian food on a series of outdoor terraces surrounded by fruit trees, palms and the rugged landscapes of Gran Canaria's west coast.
Lex Says: Show your waiter this article at Los Almacigos and you get a free glass of wine per person with a meal.
The history of Guayedra in Gran Canaria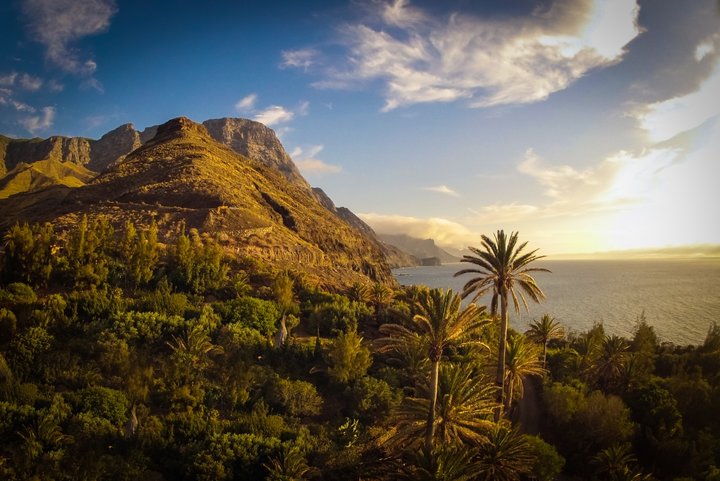 The Guayedra area of Gran Canaria was gifted to Fernando Guanarteme, an aboriginal king of Gran Canaria who converted to Catholicism. It was a reward for his effort to end the war between the Spanish and the remaining aboriginal rebels.
For centuries, Guayedra was a small hamlet where local farmers and shepherds scraped a living from the terraces and steep hillsides. It was almost abandoned by the 1980s when a local philanthropist decided to buy it and rescue its old Canarian houses and farms.
A lot of work has gone into bringing Guayedra back and it's now a quiet rural paradise (we don't use the word lightly). The valley floor is covered in rare Mastic trees (the largest Mastic forest in the Canary Islands) and the old terraces have been replanted with mango, guava, orange, olive and pomegranate trees. There's a stream, duckpond, hammocks under the mango trees, and a pristine beach at the mouth of the valley.
It's worth spending half an hour following the walking trails around the restaurant as you go through the mastic forest and past allotments, fruit tree plantations and beautiful, palm-studded scenery.
Los Almacigos: Modern Canarian food made from home-grown produce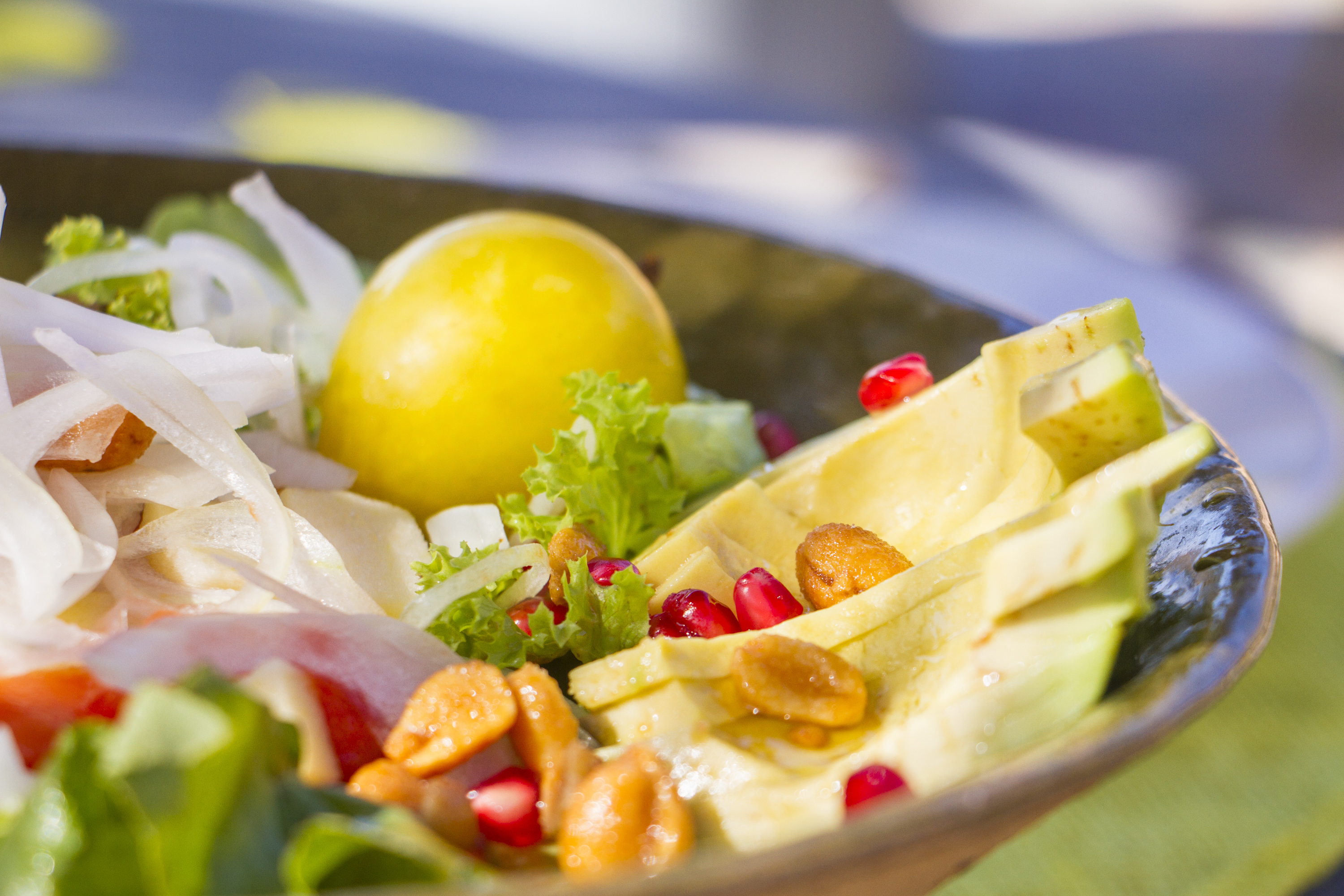 Los Almacigos, run by local chef Jose Miguel Rodríguez, focuses on modern Canarian food and dishes from around the world made with ingredients grown organically in the Guayedra Valley.
Jose Miguel, who has worked at a Michelin-starred restaurant in Tenerife and at the Baobab and Royal Amadores in Gran Canaria, has a simple food philosophy that chimes with what many people look for when they are abroad. Quality food made from the tastiest local ingredients. He gave up a career as an industrial engineer to become a chef and says that cooking is just like design except that it uses all five senses.
For example, the pork served at Los Almacigos comes from the local race of black pigs while the free-range chicken is cooked with thyme that grows right by the kitchen. Most of the vegetable dishes, from rices to baba ganoush, are made with produce harvested straight from the allotments right by the restaurant. The olives are harvested and cured on site and the ice cream made with local mangos. Los Almacigos even has its own smoker and does a cracking salad with smoked fish and local goat cheese.
We recommend the rices, the beef rib,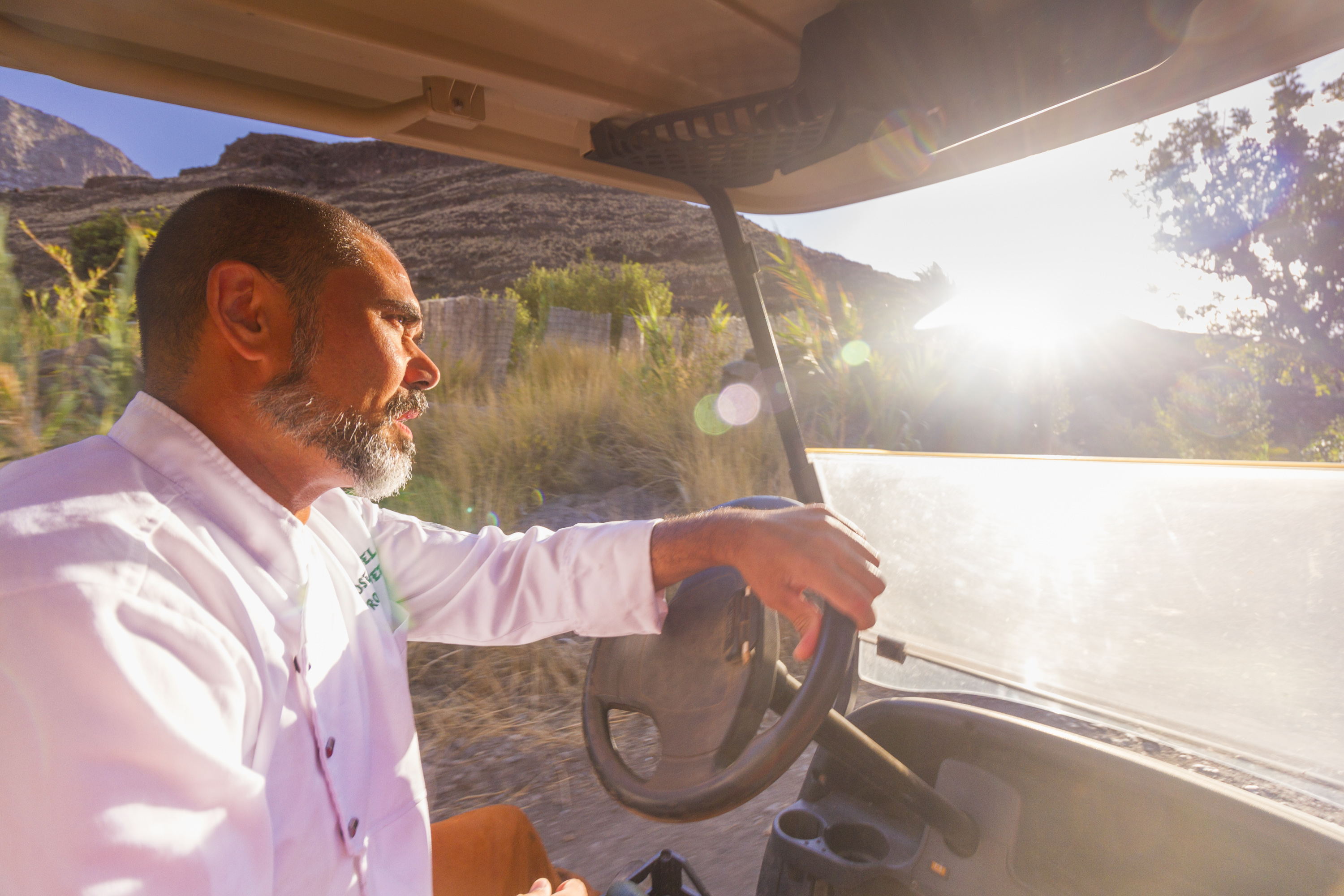 Along with the excellent food, what makes Los Almacigos special is that all its table are outdoors and set on terraces around the kitchen (based in a centuries-old Canarian farmhouse). There are even tables inside cucañas; wigwam-shaped stacks of local cane that we used in the old days to support tomato vines.
Alex Says: For a fun family experience, ask for the cucaña table.
Los Almacigos: The details
Los Almacigos opens between 12.30 and 19.00. It is closed on Monday and Tuesday and you'll need to book a table in advance at the weekend.
The Guayedra Valley is about 10 minutes drive south of Agaete and Puerto de Las Nieves in the north-west of Gran Canaria. Just follow the GC 200 until you reach the signs for Guayedra right next to a big palm tree by the road.
Call: 683 65 79 82