From Santa sculptures on the sand to giant Christmas trees in the resorts, the island goes all out to make its Christmas visitors welcome. There's even a singing Santa Claus at Amadores beach.
The weather at Christmas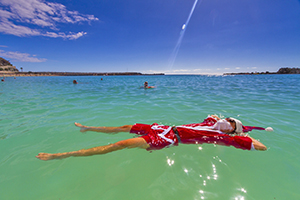 Gran Canaria, and especially the resorts in the south, is almost always sunny for Christmas day. The temperature can reach 27ºC by the beaches and isn't any lower than 18ºC in the evening. That's about perfect; not hot enough to melt your Christmas chocolates and warm enough to sit out and have a festive cocktail in the evenings.
The fiesta days
As you'd expect from a holiday island like Gran Canaria, Christmas lasts longer here than in most places. From December 25th to January 6th, the island goes all festive.
There's no Boxing Day in Spain and Christmas Eve is a normal working day so December 25 is the only holiday. At New Year, January 1st is a holiday and so is Three Kings Day on January 6. On all other days over the Christmas period, the shops, resorts and public transport work as normal.
Christmas dinners
Plenty of pubs and restaurants do traditional Christmas dinners for all nationalities. It's worth organising in advance if you are heading out for the 25th and have to have turkey and all the trimmings as most places get full. If you stay at a hotel, then expect plenty of Christmas options on the buffet tables; you can sing carols in the queue.
Staying in Puerto Rico? Check out the Barbacoa up in the Europa Centre, the Lemon tree in Agua La Perra behind Puerto Base, and Bob Gorman's Music Pub & Store in the main shopping centre.
Staying in Playa del Inglés or Maspalomas? Contact the Red Cow in the Prisma Centre, Kim's Bar, British Bulldog, and Britannia pubs.
Staying in Las Palmas? Check out the bus timetable to the south.
Local Christmas
Canarians don't do that much on Christmas day; it's a stay at home with family sort of day. They have their big meal on Christmas Eve.
Then everybody goes back to work until New Year's Eve. This is a big deal on the island as all the young ones get dressed up in their smartest clothes (think DJs and party frocks) and party all night long. Buy only after a family seafood meal that lasts until midnight. Make sure you find out where the nearest New Year's Eve fireworks display is; Las Palmas does a great one at midnight.
After New Years day, there's a break in festivities until Reyes. This is traditionally when the kids get their main presents but since school starts the day after Reyes, most people let Santa bring the main presents on Christmas day.
Things to do and see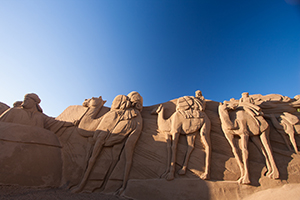 Definitely head to a local town to see a traditional nativity scene and look out for the funny 'cagon' figure. Almost every nativity scene has a man having a pooh; He's normally tucked away in a corner somewhere but look closely and you'll find him.
The island's coolest nativity scene is at the north end of Las Canteras beach. It's made entirely of sand and is so big that you have to walk through it.
Most local towns resorts also set up Christmas fairs and markets that sell everything from local handicrafts with a festive twist to your standard Christmas tat (dancing Santas, etc).
On January 5th, the Three Kings come to visit on their camels and all the kids go to tell them what presents they want (even though most of them have already got them from Santa). Large towns put on extravagant Three Kings processions with real camels.
The Sales
As soon as the Three Kings have gone, the sales start and the big shopping centres and areas, like Las Arenas, Mesa y Lopez and Triana in Las Palmas, the Centro Atlantico in Vecindario and even the new Tablero centre just behind Maspalomas heave with bargain seekers.