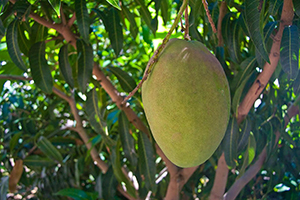 After receiving regular complaints of fruit thefts in the Mogán area, local law enforcement staked out several mango farms. The thieves didn't take long to home in on their juicy targets and a man was arrested in flagrante delicto.
Under interrogation, the fruit-thieving rogue quickly cracked and gave up his entire organisation. Rather than a lone fruit thief, he was just part of an island-wide organised grime gang dedicated to stripping tropical fruit orchards bare.
A subsequent police raid in Arucas town led to the arrest of four other gang members and the recovery of 400 kilos of stolen tropical fruit with a street value of 1400 euros.
The gang, consisting of Spanish men aged between 24-33, is currently awaiting trial.
Source: Canarias 7