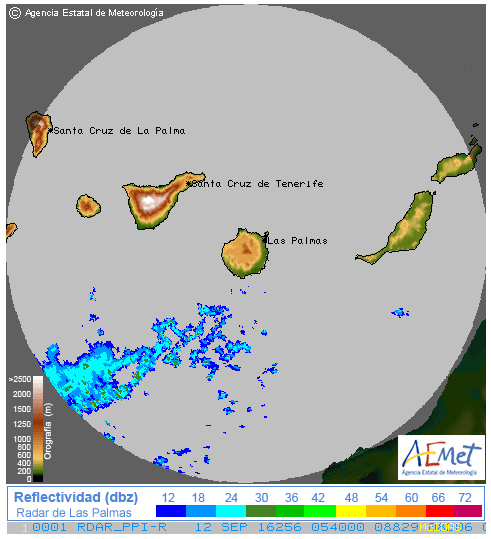 Just in case anyone thinks we've been on the rum all weekend and are now writing gibberish, here's a screen grab of AEMET's rain radar showing the approaching weather. The blue stuff is the wet stuff.
It's nothing major and there's no alert or aviso in place. However, you can expect it to get cloudier throughout the day and there could well be some strong showers and some thunder and lightning (very, very frightening).
This sort of event isn't uncommon in September but is difficult to forecast accurately. Gran Canaria may just get some high altitude cloud and a few spots of rain, but could also get a sharp soaking.
What we do know is that the forecast for the rest of the week is back to the standard blue skies (except for a fringe of morning cloud in the north). The sea is now almost 24ºC.
So, if we get wet today, enjoy the experience. We recommend watching it with a rum or three: Here's how to make a good Dark & Stormy cocktail.