Las Palmas has Gran Canaria's biggest range of High Street names and small boutiques and prices are all local as the shops cater to Canarians rather than tourists. The main sales periods start in the second week in January and in July.
Fo serious Las Palmas shopping, first head to Triana district, then move on to Mesa y Lopez and Las Arenas. Leave enough time for a stroll along Las Canteras beachfront.
Don't forget that most shops in Las Palmas close on Sundays (except during the winter cruise season) and on national and Las Palmas-specific fiestas. Big shops in the retail areas don't close for lunch, although many of the small boutique owners choose lunch and a siesta over customer service. All the shopping centres have plenty of parking and in most it is free (or free for a few hours).
Las Arenas Shopping Centre
The biggest centro commercial in the capital and the place to find everything under one roof. There's a C&A, Primark and H&M on the ground floor while the first floor has Desigual, Pimkie, Zara, Fundgrube and Mango. For a full list of fashion shops in Las Arenas, see the centre's website here.
Once you've had enough of clothes shopping, you can always head up to the giant MediaMart on the first floor to browse everything from cameras, computers, and games to coffee makers.
Las Arenas is at the south end of Las Canteras beach just behind the Alfredo Kraus auditorium. A taxi from anywhere in Las Palmas to Las Arenas costs less than 7 euros.
The best thing about Las Arenas is that everything is there and easy to find. The worst thing is that the food options are pretty basic.
Triana Barrio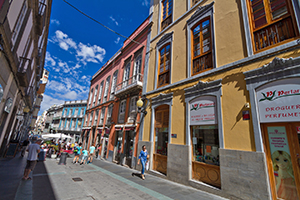 Triana is Las Palmas' traditional commercial district and was voted Spain's top outdoor shopping area in 2013.
As well as all the main High Street names clustered appropriately on the main drag, there are plenty of small, indy boutiques up the cobbled side streets. Triana also has lots of outdoor cafes and places for lunch so you can spend a whole day shopping here or combine it with some culture in Vegueta old town next door.
Search for any shop in Triana with this (Spanish language) tool. Don't miss the Lenita & XTG shop; A homegrown swimwear and underwear brand with a fresh take on beachwear. It's at Calle Travieso 11.
Alex Says: Lenita & XTG are also in the Yumbo Centre in Playa del Inglés.
To get to Triana from the resorts get any bus that stops at San Telmo bus station. Walk up the steps to San Telmo Square and Triana starts to your left behind the little church.
The best things about Triana are the range of shops and the fantastic location. The worst thing is that you can't decide whether to have a coffee or visit another shop.
Mesa y Lopez
Dominated by Spain's massive El Corte Inglés department store on both sides of the road, this straight road is the biggest shopping area in downtown Las Palmas. It's lost a bit of buzz in the last few years but is still well worth visiting with a Marks & Spencers, Guess, Zara, and Stradivarius.
El Corte Inglés is worth a wander even if you don't want to buy anything. It sells everything you could possibly imagine.
Mesa y Lopez is within walking distance of the Santa Catalina bus station but hail a taxi (less than 5 euros) if you want to shop rather than sightsee.
The best thing about Mesa y Lopez is El Corte Inglés. The worst thing is that you know that Las Canteras beach is just a few minutes walk away.
Siete Palmas
Las Palmas doesn't have suburbs but it does have Siete Palmas where people live in big flats in big buildings and commute into town in big cars. To cater to their retails needs, there's the Siete Palmas shopping centre with its own El Corte Inglés shop as well as a good range of fashion and accessory stores. See the full store list here.
Out of Town
Put together, indoor El Mirador and outdoor plaza-style La Terrazas are one of Spain's largest retail spaces. Of the two, El Mirador has the biggest range of shops and Spain's biggest Primark, but Las Terrazas has the outlet stores, including several shoe shops, Mango, Calvin Klein, Fundgrube and Lacoste. See a full list of shops for El Mirador here and Las Terrazas here.
You need to drive or get a taxi between the two centres (or walk the long and sweaty path that runs along the motorway).
Don't miss the new Los Alisios shopping centre in Tamaraceite. It's huge and outdoors and has lots of flagship stores as well as a great selection of restaurants upstairs.
Other Las Palmas spots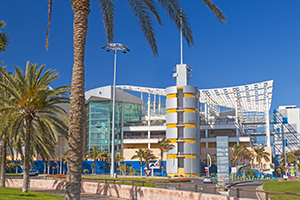 El Muelle shopping centre (right by the Santa Catalina bus station) is convenient but doesn't have many fashion names these days.
For serious clothes shopping, you'd be better walking down to the beach and south to Las Arenas or south along Las Ramblas to Mesa y Lopez (get a taxi if you are in a hurry).
Even if you don't buy anything in El Muelle, it's worth heading up to the top floor terrace for the views of the port and the cruise ship dock.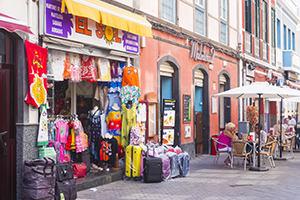 The area between Las Palmas' port and Las Canteras beach, known as El Puerto, has lost many of its smaller shops to the malls but still has a few souvenir shops.
Luis Morote street, now the main pedestrian thoroughfare taking cruise ship passengers from the port to the beach, is fast becoming a new shopping street.
It's got a mix of quality souvenir shops and small boutiques, and new shops open regularly.
Favourites
Las Canteras Lifestyle on the beachfront just north of the Reina Isabel hotel sells quality beach accessories and fashion imported from all over the world. Most of the wares are made by independent designers, collectives and NGOs from around the world and everything in the shop is original and unique on the island.
This is the spot for quality beach items and fashion items that satisfy your social conscience.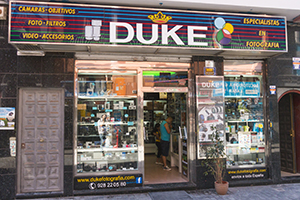 Duke Fotografia is the best camera shop in the city and ships equipment from Gran Canaria to all over Spain thanks to low VAT and taxes. It has a huge range of lenses and accessories and is the place to ask if you want to buy a new camera while on holiday (also pop over the road to the Visanta store to compare prices). Duke is on Calle Ripoche; the pedestrian street that runs west from Santa Catalina towards the beach (starting between the two newspaper kiosks).
Fundgrube is Gran Canaria's best perfume, cosmetics and fashion accessory shops and has a store in most of the island's quality malls and shopping streets. It also sells a wide range of tobacco brands at excellent prices.
For more quality info about Gran Canaria shopping, shopping in Las Palmas, see our Ultimate Guide To Gran Canaria Clothes Shopping, and read these local Gran Canaria shopping tips.