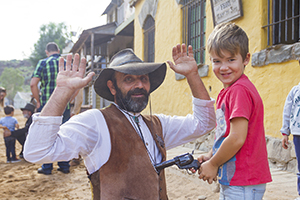 Generations of visitors to Gran Canaria have suspended disbelief for a few hours and had a great day out at Sioux City in San Agustín. It's still a great place to go, especially if you have little kids who spend too long looking at screens. There's nothing like real cowboys to fire the imagination.
Film set
Built in 1972 as the set for the 20th Century Fox film "Take a Hard Ride", starring Lee van Cleef and Katherine Spark, at a cost of two million dollars, Sioux City is whole Wild West town sitting in Cañon del Aguila, San Agustín. It was built to last; The Church is bigger than some Gran Canaria village churches and the saloon wouldn't be out of place in Dodge City.
So, what do you do with a whole western town once filming is over and the actors have gone home?
Theme park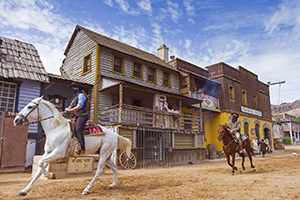 You open it as a Wild West theme park complete with bank robberies, gunfights, knife throwing and lasso shows and cancan dancing. Add a few buffalo, the odd American Indian, some authentic film memorabilia and Western artefacts, and you've got a fun day out.
Sioux City is great for the kids (and their dads) and the fully stocked saloon and shows mean that everyone has fun. The shows, the famous bank robbery on the high street and knife throwing, lasso and cancan shows inside the saloon, are perfect for the setting. The knife thrower is really good (he's the second generation of his family to do the job).
Other attractions include a Wild West museum with cowboy guns, sheriff badges and wanted posters and a goat farm. There is also, of course, a Wild West shop that sells cowboy hats and cowboy guns (between six and nine euros plus 3.50 for the caps).
Kids love the pony rides through the town and there are horses and ponies to suit all sizes (our two-year-old was more than happy on a little pony).
The saloon sells food and drinks and Sioux City also puts on a decent BBQ.
Events
Sioux City used to put on huge parties at night but doesn't do them regularly anymore. We'll let you know if that changes.
Info
Sioux City provides a courtesy bus if you book via your hotel or accommodation, but you can get to it on any public bus that goes through San Agustín (details here). It's a good 10-minute walk from the public bus stop to the park entrance.
The entry price is €21,90 for adults and €15,95for kids between two and 12.
Pony rides cost five euros and Sioux City also does longer horse rides at its new Horseland attraction in the valley behind the theme park.
Sioux City is open Tuesday to Sunday between 10.00 and 17600. More info on its website.